They say the words "cheap" and "good" never go together. But that's not always true. Although it doesn't happen most of the time, you can buy a cheap product and still get huge value from it. Here, we'd be discussing the best cheap headphones according to Reddit users.
Table of Contents
Best Cheap Headphones: Reddit's Top Recommendations
Reddit is the best place to get brutally honest opinions and reviews on any product or service from people who have actually used it and compared it with the competition. So, checking out Reddit when looking to buy the best cheap headphones is a smart idea.
Now, here's the big problem: Getting enough insights from Reddit that will help you make well-informed buying decisions would require checking through several threads and subreddits for several hours.
But we've done the hard work for you. We combed through Reddit for threads on the best cheap headphones and put together our list and ranking of the most favored models among Redditors.
Now, let's cut to the chase!
Best Cheap Headphones: 1. Koss Porta Pro
Reddit Reviews
Our Experts' Review
The Koss Porta Pro is another piece of technology that dates far back to the 80s. It was one of the hottest audiophile gadgets at the time of its release into the market and it still ranks as one of the most affordable and superb pairs of headphones.
Design
The design of the Koss Porta Pro doesn't give it the trendiest look but it isn't that terrible since it was introduced during the period Ronald Reagan was the president. You essentially have two pieces of metal that make up the headband with spartan plastic and topped off with small foam pads. You can easily adjust from the plastic sliders on either end of the plastic to tighten or loosen the tension around your head. While this is a good idea, you might find yourself occasionally struggling not to lose a few hairs since it's likely that the sliders will get caught in your hair.
With regards to comfort, the Koss Porta Pro is feather-light, which makes it suitable as a travel companion. And you can adjust the headphones to fit almost anyone, from a child to those with a larger-than-average head. Plus, you can also fold up and dip together for relatively convenient storage in a purse, backpack, or messenger bag.
Sound quality
Like or hate its old-school design, the Koss Porta Pro offers good sound quality despite its pricing. The real reason it has remained a classic is because of its amazing audio reproduction. Keep in mind that these headphones were released way before studio-quality sound-isolating headphones became a thing.
That out of the way, the Koss Porta Pro is non-offensive in nature, meaning it is highly dynamic and engaging. You get high-quality sounds that suck you into the music such that you forget about gears or anything audio-related. The amount of bass it produces is quite impressive and while the treble isn't the best, it isn't coarse or distracting either.
Overall, the Koss Porta Pro might not be a 5-star device but it has become a mainstay among audio enthusiasts. Its deadly value proposition and unbeatable price make it a winner and a great choice.
Pros
Reasonable price
Highly adjustable and foldable
Surprisingly comfortable
Lightweight and portable
Cons
Best Cheap Headphones: 2. Audio-Technica ATH-M50X
Reddit Reviews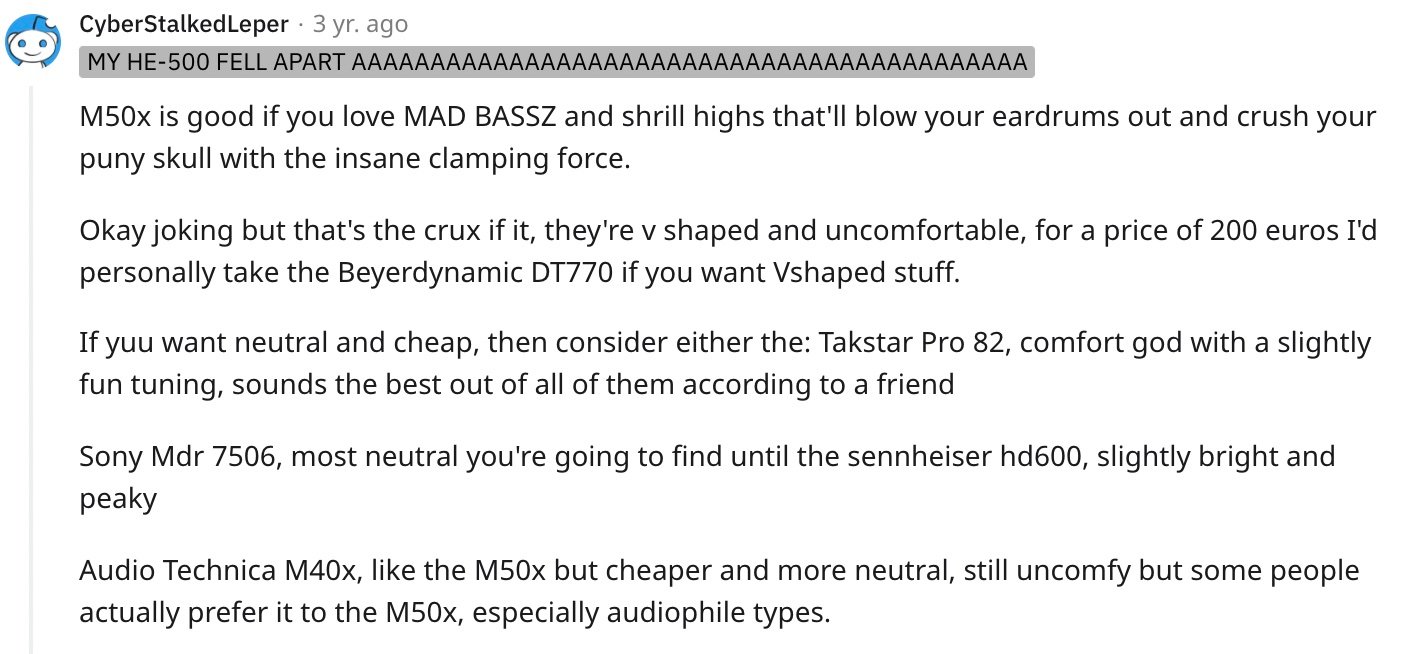 Our Experts' Review
A follow-up to the ATH-M50, the Audio-Technica ATH-M50X is yet another classic that gets the job done. It offers an awful lot for your money including great sound and good comfort.
Design
For an audio design classic, these headphones sure hit the nail on the head in terms of look. The ATH-M50X is essentially arge over-ear headphones, which are generally bigger than the popular style-driven on-ear headphones. They're entirely made of plastic, so don't expect anything premium here but that shouldn't be a problem as the ATH-M50X are designed to be handled quite roughly. The ear cups also rotate 90 degrees so you can have them flat around your neck when not in use, and you can adjust it ever so slightly to get the most comfortable fit.
For the padding, Audio Technica used synthetic leather, which is basically plastic. So if you live in a hotter environment, you may have to take it off from time to time to avoid sweaty ears since the headphones don't breathe well. On the positive side, these headphones are portable, so you can wear them both indoors and outdoors.
Sound quality
Audio Technica marketed the ATH-M50X as professional studio monitor headphones and they really are! They offer the bass power and the low-end beefiness, that today's headphones all try to have but the ATH-M50X takes it a notch higher with the control, expansiveness, and separation that stops it from clogging the sound up.
Although the ATH-M50X doesn't have active noise cancelation tech, it does a good job at blocking out sound from the outside world. At its price, the soundstage on offer here is very rare in a closed-back headphone – it's immersive.
Overall, the ATH-M50X makes listening to music fun, delivering vivid and lively sound with heaps of energy. When you want a pair of headphones that check the design and sound quality boxes with cheap pricing to boot, these headphones are just what you're looking for.
Pros
Great looks
Excellent, lively sound
Comfortable
Thumping mid-bass
Cons
Not neutral-sounding
Bulky design
Best Cheap Headphones: 3. Sony MDR7506
Reddit Reviews
Our Experts' Review
Sony would be perfectly justified if they charged a little more for these headphones. The Sony MDR7506 closed-back professional headphones have been a favorite for musicians, audio engineers, and music lovers around the world since 1991. The popularity they've enjoyed for decades points to how reliable they are.
Design
Having been around for more than 30 years, there's plenty to love and loathe about the Sony MDR7506. For instance, this pair of headphones is very durable and is the perfect choice if you're looking for unkillable headphones. Even if the headphones develop some fault, there are user-replaceable parts at a reasonable price.
Speaking of looks, these headphones sport a straightforward, over-ear design that feels a bit bland but will work for most. The branding logos highlight the black color scheme. They're lightweight, which many who do broadcast and mixing work may find refreshing. Also, they fold up nicely and have no notable weakness: no cable tension, no weak hand bands or extension struts. The headphones come with a soft carrying case.
Sound quality
Sony gets the audio output right in the MDR7506, which is quite evident seeing that the company has kept the headphones in its lineup for this long. They're particularly made for audio professionals, meaning the output is optimized to help professionals find what's wrong with a recording while they can still do something about it.
The Sony MDR7506 has a consistent, detailed, studio-style response so much so that the different frequency ranges are audible and you can be sure of hearing every hiss, compression, hum or clipping issues in your audio. It also has an awesome, deep, powerful bass, an excellent and clear mid-range. These headphones have pretty good isolation, allowing almost no sound leakage to the outside. Because of the sound quality, you won't be wrong to nickname the MDR7506 a pair of studio monitoring headphones.
Overall, these headphones sound very impressive and perform great for radio, film production, video editing and voice-over where high-quality sound is required. They're really good and that explains why tons of units are sold annually to the pro world.
Pros
Durable
Exceptional audio reproduction
Foldable and adjustable
Lightweight
Isolation
Cons
Best Cheap Headphones: 4. Sennheiser HD-201
Our Experts' Review
Despite its significantly lower price, the Sennheiser HD-201 is surprisingly good value for the money. It's not audiophile quality but it's a great choice if you're looking to overhaul your headphones but don't want to break the bank.
Design
The Sennheiser HD-201 looks and feels cheaply made as the entire construction is the light and bendy sort of plastic but it still adheres to the brand's traditional aesthetic style by keeping things simple with a combination of black and gray. Fortunately, the appearance isn't so bad in that you get two major benefits from the design. First, you won't attract the attention of people around you take out the headphones. Second, you will benefit from its long-lasting look as Sennheiser seems to have put in efforts to ensure that the headphones don't get old soon.
Many people often believe headphones made of plastic translates to discomfort but the lightweight nature and soft padding of the HD-201 make wearing them easy and you can easily use them for hours. You can even swap out the ear cushions if you want more comfort. Plus, the headphones are tough, which is a good thing because you want to have products that can survive rough use.
Sound quality
It's perfectly normal to expect that headphones of this price point will deliver inferior sound but while the Sennheiser HD-201 are far from the best on the market, they do offer decent sound quality. They shine brightly the most in balance and insight departments.
You may not get explicit clear sounds but this pair of headphones do perform well enough for you to have a fairly detailed picture. As for balance, the bass is slightly above average and the low tones are truly convincing but the mids sometimes sound a bit dirty.
A drawback to the Sennheiser HD-201 is that the noise isolation isn't great as it does very little to block out background sounds. On the flip side, these headphones don't require a lot of power to work, making it easy on your battery and compatible with other devices like your smartphone, MP3 players, etc.
Overall, the Sennheiser HD-201 isn't the most spectacular pair of headphones on the market but it's likable and for the money, it is competent.
Pros
Detailed and balanced
Lightweight
Tough
Budget price
Cons
Poor isolation
Cheap materials
Best Cheap Headphones: 5. Monoprice BT-300ANC
Our Experts' Review
Modeled after Bose's popular active noise-canceling headphones, the Monoprice BT-300ANC is a cheap pair of headphones you can count on to keep you focused in a noisy office or block out engine noise on planes, trains, or buses.
Design
The Monoprice BT-300ANC is aesthetically pleasing to the eyes with a plastic body. It feels sturdy and there's almost nothing to complain about its build quality. The headband, however, has metal included in it, which makes it flexible to wear while the padding looks plush. It is foldable, lightweight, and portable so you can take it with you anywhere you go.
With regards to comfort, the headband is made of metal, plastic, and protein leather that covers the padding. The padding is soft and quite comfortable, so you should have no trouble having the headphones on for a couple of hours.
Sound quality
The Monoprice BT-300ANC has decent clamping pressure and adjustability to ensure noise isolation and active noise cancelation. Of course, these features are not as good as what high-end models offer but at this price point, there is very little to complain about.
Going further, the sound output is quite good, so it's fine to listen to music with it. It somehow manages to deliver sounds clear enough that you don't have to worry about finding it hard to hear voices or lyrics of a song. These headphones are better suited for listening for recreational purposes rather than being used for professional applications.
In a nutshell, these headphones don't promise too much but they don't offer too little also. They're great for people looking to enjoy music without background noise but don't want to shell out for pricey headphones.
Pros
Aesthetically pleasing
Decent audio reproduction
Foldable
Comfortable
Cons
Best Cheap Headphones: 6. Monoprice – 116150
Our Experts' Review
Monoprice might not be a popular name when compared to other brands but they're makers of good quality headphones that don't cost an arm and leg. The Monoprice 116150 is yet another offering that does the one thing headphones are expected to do – deliver good sounds.
Design
If you were to judge the Monoprice – 116150 by its looks, you will likely write it off because of its retro style which doesn't really look appealing. The headphones have a very chunky headband with a less thick hinged part where the cups attached. While big, the cups don't stick out miles from the side of your head neither does the headband even though it's really beefy.
Like most other headphones, the padding material on the headband is soft and decently padded though it gets uncomfortable. You may feel some discomfort after using the headphones but periodically adjusting them should do the trick.
Sound quality
The Monoprice – 116150 offers clean robust sound across the audio spectrum, which is sure to appeal to a wide audience. You can expect clean, detailed sound reproduction with a lively flavor to satisfy those with discerning ears. It is quite bassy and delivers a massive soundstage.
Most active noise-canceling headphones have slight issues since the sound is usually run through the noise-canceling circuitry and the Monoprice – 116150 has the same problem but it's minimal. The noise-canceling tech might not be as good as that offered by Bose headphones but it is close.
Overall, the Monoprice – 116150 is a great buy that lets you save money while getting clean, detailed sounds.
Pros
Detailed, clear sounds
Wide soundstage
Good noise canceling
Cons
FAQs: Best Cheap Headphones
Which headphone is best and cheap?
The Anker Soundcore Life Q20 is often considered one of the best and cheap headphones available. It offers excellent sound quality, active noise cancellation, long battery life, and comfortable design at an affordable price point, making it a popular choice for budget-conscious music enthusiasts.
Is it OK to buy cheap headphones?
It is generally okay to buy cheap headphones, especially if you are on a budget or looking for a temporary audio solution. Many affordable headphone options offer decent sound quality and comfort, making them suitable for casual use or specific needs. However, it's essential to do some research, read reviews, and consider the intended usage to ensure that the cheap headphones meet your requirements and provide a satisfactory listening experience.
Are 10 dollar headphones good?
The quality of 10-dollar headphones can vary significantly depending on the brand and model. While some budget headphones may offer decent sound quality and functionality, others may have limitations in terms of build quality, audio performance, and comfort. It's essential to manage expectations when purchasing such inexpensive headphones and read reviews or try them out if possible to determine if they meet your specific needs and preferences.
Are Beats worth buying?
Whether Beats headphones are worth buying depends on your personal preferences and priorities. Beats headphones are known for their stylish design and bass-heavy sound signature, which some users prefer for certain music genres and lifestyle. However, in terms of sound quality and features, there are other headphone brands available that may offer similar or better performance at a more competitive price point. It's essential to consider factors such as audio preferences, comfort, design, and budget when deciding if Beats headphones are the right choice for you.
Best Cheap Headphones: Conclusion
In conclusion, finding high-quality headphones on a budget is entirely possible with the wide range of affordable options available today. The best cheap headphones combine impressive sound performance, comfortable designs, and practical features that cater to various needs and preferences. Whether you're a student, music lover, or simply looking for a cost-effective audio solution, these budget-friendly headphones prove that you don't have to spend a fortune to enjoy exceptional sound quality and a satisfying listening experience.
Read also: Best Sennheiser Headphones for Gaming