The Beyerdynamic DT 990 Pro is one of the best-rated open-back headphones you can get for less than 200 bucks. Even more interesting is the fact that it is suitable for a wide range of applications — including music and gaming.
If you're considering buying the Beyerdynamic DT 990 Pro but aren't sure whether to proceed or not, this post is for you. We've put together some of the most helpful reviews on Reddit, which is a platform for trusted reviews by real users and experts.
While you have the option of browsing several posts and subreddits to find the reviews you need, we've made things easier for you by gathering insights from several comments and distilling them into this not-so-long post.
So, read on to learn more.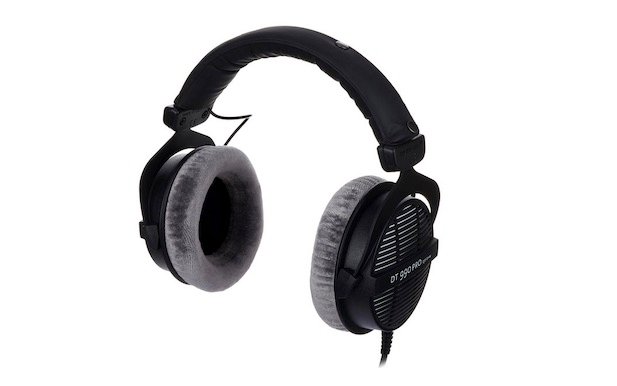 Beyerdynamic DT 990 Pro: Quick Specs
Type: Open-back, wired headphones
Wearing style: Over-the-ear
Colors: Grey
Magnet type: Neodymium
Noise-canceling: N/A
power input: 100mW
Sensitivity: 96 dB/mW
Impedance: 250 Ohms/ 600 Ohms
Frequency response: 5 Hz – 35,000 Hz
Connector plating: 3.5mm gold jack
Cable length: 3m
Beyerdynamic DT 990 Pro: Features
Build
The Beyerdynamic DT 990 Pro sport a sturdy and solid build. The headband can withstand a significant amount of stress due to the embedded rugged metal frame. However, the ear cups are less durable because they are made of plastic. Nonetheless, they are strong enough to remain intact even after a number of drops.
Sound Quality
The Beyerdynamic DT 990 Pro headphones have a clear and crisp sound quality with an impressive soundstage. They reproduce a lot of detail and don't block any ambient noise. Bass, vocals, and instruments are perfectly balanced and reproduced with high-fidelity. But treble is a bit overemphasized.
Comfort
Thanks to the robust and soft padded headband and cushioned earpads, the Beyerdynamic DT 990 Pro are quite comfortable, but they fit tightly on the head. Users with big heads may start feeling uncomfortable after few hours of use. Nonetheless, the well-padded ear cups are large enough to fit comfortably over most users' ears.
Beyerdynamic DT 990 Pro: Reddit Users' Reviews
Positive Reviews
The frequency range is very wide and is very detailed. You can notice the deepest bass and the highest notes and percussion from a track. There are sounds in the songs which you will hear for the first time if you never used a quality grade headphones. The sound feels natural and bright. — JLordX

 

Open back; was skeptical of this at first, will it disturb others with too much leak, or too much outside noise coming in. And was it worth it?! — JLordX

 

Many people on reddit over exaggerate the intensity of the treble. It is often characterized as "piercing" or "harsh", for me that is not the case. The best way I can describe them is just very emphasized. The highs are definitely the most noticable sound signature, but they don't seem to completely overpower the other frequencies. The highs make these headphones fun and good for gaming. — PepperoniDude1

 

These are way more comfortable than I could've even imagined. The velour ear pads are very soft and provide very little pressure around your ears. The headband has a lot of cushion and also does not place a lot of pressure on the top of your head. I am able to wear these for long gaming or listening sessions, and I often forget that I am wearing them in the first place. — PepperoniDude1

 

I bought my DT990s in 2014 and they continue to grow on me. The bass is just fantastic and the soundstage is wide as hell. Plus they seem to get more comfortable as they age 🙂 Watching movies, gaming and listening to music on these is so enjoyable 🙂 — Dopamine63
Critical Reviews
It's still a crime that the cable is not detachable. Absolutely no excuse for that in 2019 for any over-ear headphone ever. I've also experienced some significant deflation in the earpad cushions after only 6-7 months of usage, which is highly disappointing. Other than that, they're some of the comfiest headphones I've ever worn, have (imo) ideal clamp force, and are just so lively most other headphones have sounded muted and boring in comparison. — clothing_throwaway

 

My gripe, are the initial sharp highs, no detachable cables, and the silly nylon pouch. But that's nitpicking. — JLordX

 

I just got the DT 990 Pro version, and I can agree the clamping force is a bit much out of the box. One of the first days I had them I wore them for maybe 4-5 hours gaming. It didn't bother me at first, but when I took them off I realized how hard they had been on my head, and actually had a decent headache the next day. I was kinda worried it would be a problem. The next time I wore them after that, I just made sure the bend them out whenever I had a break between games and they have been absolutely fine ever since. — jephphi

 

Just popping in to say – if you are treble sensitive at all, like even a little bit, proceed with caution. Beyerdynamics in general, and the 990 in particular, are incredibly treble-heavy headphones, and it's way too much for some folks. If you can't try before you buy, make sure you buy from someplace you can return them if you don't enjoy the sound. — Ishouldbeking

 

If you want these for casual gaming, music or movies they're great. But avoid them like hell for competitive shooters. — VForVarinius

 

My Beyerdynamic DT 990 Premiums are reviewed as very comfortable headphones (possibly even more than 990 Pros) however from first wear they've been so uncomfortable for me. I feel I have to keep adjusting the length of the headphones, and it's especially bad as I wear them for after 5 minutes as the inside of the cups is pressing against my ear making it really painful. — umbrageyt1
Summary of Pros & Cons — As deduced from Reddit Reviews
Pros
Perfect for music and movies, and for many games
Wide and detailed frequency
Awesome bass and amazing overall sound output
Comfortable (for some users)
Cons
Cable not detachable
Too tight on the head (for some users)
High treble (according to some users)
Wrap-up
The Beyerdynamic DT 990 Pro is a solid pair of headphones that provide amazing audio and come at an affordable price. Many users have attested to their versatility and excellent sound reproduction. But in the aspect of comfort, reviews are mixed, with more users claiming that the headphones can be quite uncomfortable after long hours of use.
Our recommendation is that you test the Beyerdynamic DT 990 Pro on your head for comfort — if that's possible — before proceeding to buy. Otherwise, you might want to consider more comfortable options.