One of the easiest ways to buy a mattress and have it delivered to your doorstep at no extra cost is to order it online on Amazon. Aside from the cost-cutting benefits, shopping on Amazon gives you the chance to compare tons of options by several different brands. And if you're a price buyer, you'd find options that fit into your budget.
Best Mattresses on Amazon (Reddit Users' Recommendations)
While having many options to choose from can be a huge advantage, making the right choice from the pack can be quite challenging.
One of the smartest ways to make the right choice when buying a mattress on Amazon is to read through the opinions of Reddit users. Since most comments on Reddit are by real users and experts, you won't go wrong with any decision you make based on the recommendations you get from the platform.
Now, we understand that combing through dozens of topics and threads related to mattresses on Amazon can be cumbersome, so we did the hard work for you. We spent hours checking through Reddit for relevant topics and listed out the most widely recommended mattresses you can find on Amazon.
Let's cut right to the chase!
1. Tuft & Needle Original Full Adaptive Foam Mattress
Reddit Reviews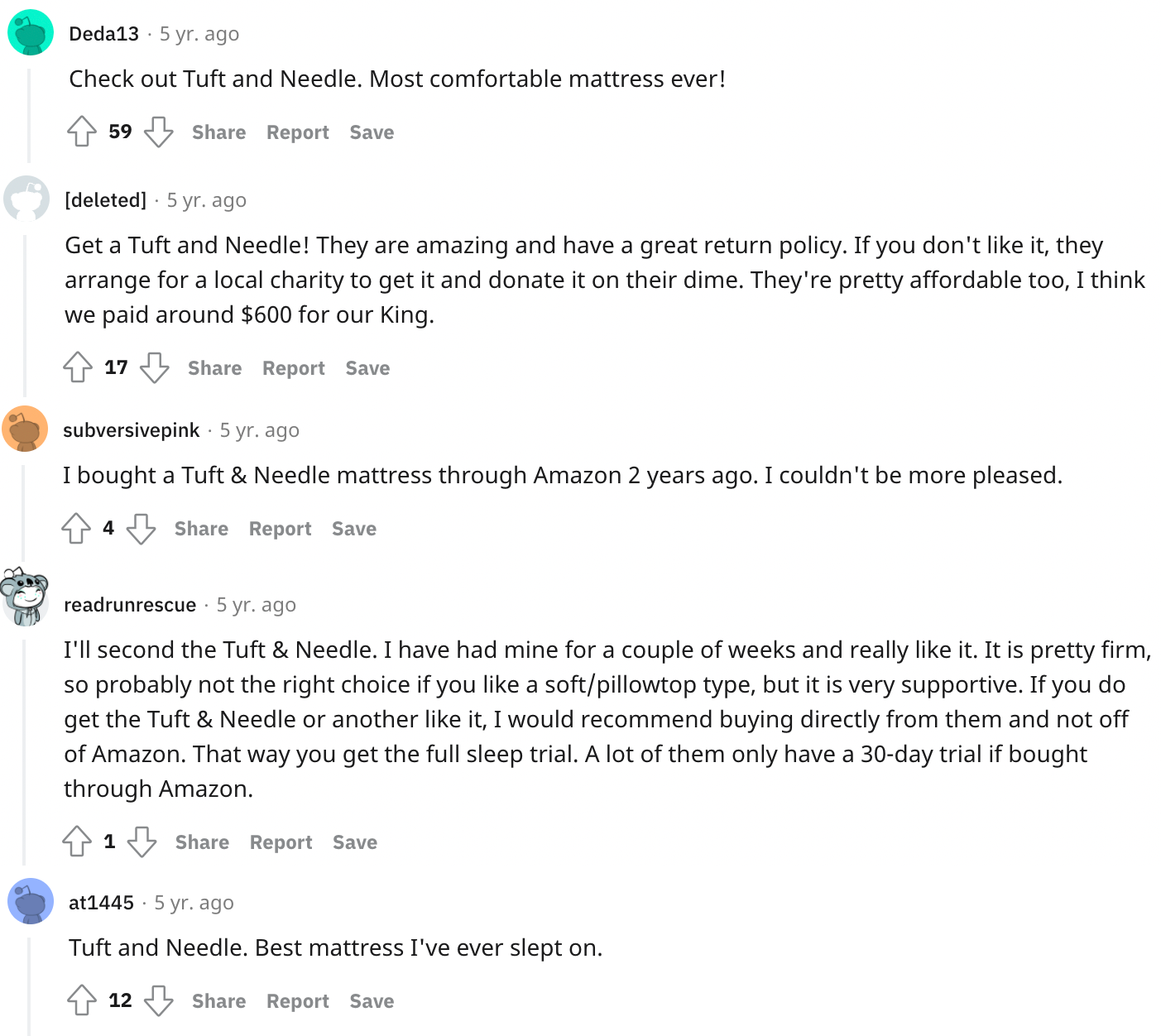 Expert Review
Tuft & Needle is a popular name in the bed-in-a-box mattress industry known for its three models namely Original, Mint and Hybrid. The Tuft & Needle Original is the company's flagship bed and is a great choice for people who are on a budget, and who prefer a mattress with a balanced foam feel.
This model is essentially a simple, all-foam, two-layer mattress. It is 10-inches thick, which is standard, especially when compared to the average bed-in-a-box mattress. The top layer is made of graphite-infused foam, called T&N Adaptive Foam while the bottom layer is made of polyurethane foam.
One of the first things to consider when buying a mattress is its firmness and feel. This Tuft & Needle has a medium firmness, which strikes between hard and soft. The top layer of the foam feels soft but once you rest your weight on it, the firmness of the support layer becomes obvious.
In terms of motion isolation, the Tuft & Needle Original does quite well as it absorbs motion so you don't feel or hear the sound too much when your partner moves. If slight movements tend to awaken, this mattress can provide you with a restful night.
When you lie on it, you will sink in a little but you shouldn't have any trouble moving around. It is relatively bouncy and responsive, so it is a good choice for those looking for the best mattress for sex.
Another attraction to this model from Tuft & Needle is that it spreads out the pressure that might otherwise build around your shoulders and hips. The manufacturer markets it as a cooling mattress but that isn't really the case. It does help with regulating temperature but you won't feel any cooling sensation.
Coming to edge support, this model is a let down. When you lie on the edge, it doesn't feel the most supportive as it collapses a bit. If you love to sleep on the edge of your bed, you might have to consider another mattress.
Overall, this mattress is suitable for side sleepers and firm enough to provide support for back and stomach sleepers. It is likely to have the new mattress smell like other models but thanks to its breathability, the smells are likely to air out quickly. If you weigh under 230 pounds, you might want to opt for this mattress.
Pros
Budget-friendly price
Doesn't conform too much
Suitable for all types of sleepers
Cons
Not suitable for people over 230 pounds
2. Lucid 12 Inch Gel Memory Foam Mattress
Reddit Reviews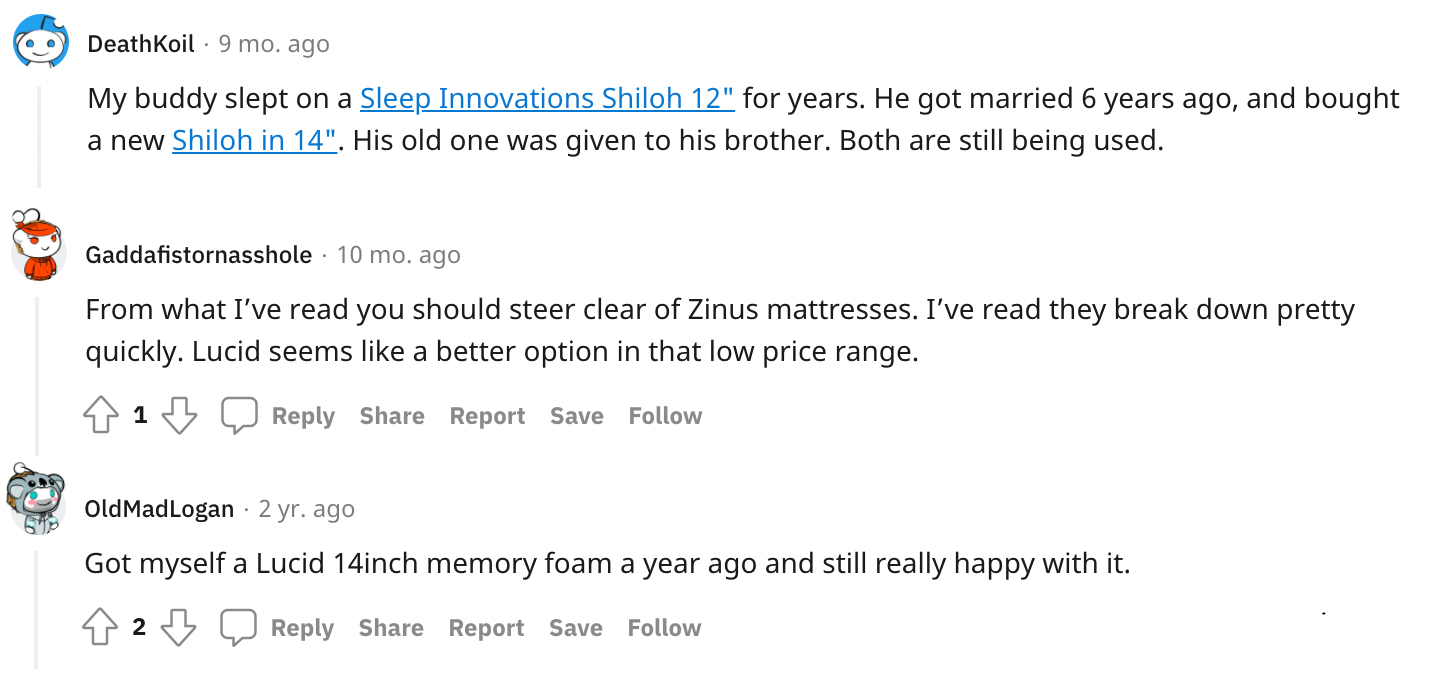 Expert Review
Lucid manufactures not just mattresses but also pillows, bedding, toppers, etc, promising a luxurious experience at affordable pricing. The Lucid 12-inch Gel Memory Foam Mattress has garnered thousands of positive reviews due to its performance in relieving pressure, isolation motion, and providing comfort.
This mattress is available in two variants – plush and medium. This review covers the medium firmness variant of the model. It consists of three foam layers plus a softcover. The cover is made of Tencel fabric blend to enhance breathability while the three layers consist of 3-inches ventilated gel memory foam, 1-inch bamboo charcoal memory foam, and 8-inch thick base foam.
The combination of polyfoam and charcoal is to provide a sturdy bottom layer that offers solid support while also keeping odors and allergens at bay. In essence, its top layer makes it responsive while the bottom provides firmness, which you might not feel until you sink into the bed.
Among the reasons this mattress might be a good match for partners is how it handles motion transfer well. You can be assured of a restful night if you have a partner that tosses and turns as this Lucid 12-inch Gel Memory Foam Mattress restricts movement occurring on one side from transferring to the other.
Next, you want to be sure any mattress you choose cradles your body without sinking too deeply and this Lucid mattress does shine in that regard too, thanks to its superb contouring capabilities. It molds to your unique shape so you can wake up in the morning without any pains or aches.
If you're a heat sleeper, you might want to rethink the Lucid 12-inch Gel Memory Foam Mattress as it falls below expectations here. This is because it retains heat and restricts air circulation, which means it can trap heat against your body.
Thankfully, this model's construction put a limit to how much heat the mattress can hold. Plus, it does fairly well at providing edge support. Also, there are no odors except the new mattress smell, which goes away after a few days.
Overall, this is a really great option for those on a budget as it does just about everything you might expect of a memory foam mattress.
Pros
Surprisingly good at its price
Suitable for back and side sleepers
Motion transfer is amazing
Cons
Not responsive enough for sex
Could be more Breathable
3. Sleep Innovations Shiloh Medium Firm Memory Foam Mattress
Reddit Reviews
Expert Review
Sleep Innovations is one of the relatively new kids on the block in terms of mattresses but the brand has shown that they have what it takes to become a force to reckon with. The Shiloh Medium Firm Memory Foam Mattress has been around for some time but was renamed Shiloh even without any new changes.
The first impression of this model is that it features cloudlike memory foam, medium-firm support, and an extra comfortable dual-layer design. What's more, all their products are made 100% in the USA.
On a firmness scale, this mattress scores 6/10 Because of the top layer, you might not notice that it is firm until you rest your weight on the bed. It feels firm from the edge to the center. Don't expect it to cradle your shape as a soft bed would.
Like most all-foam mattresses, the Shiloh Medium Firm Memory Foam Mattress has poor air circulation, which means you will likely feel hot when on this bed. If you're a hot-natured person and sleeping in a hot spring, this bed might be a bad idea for you.
If you need pressure relief, that's exactly what you're going to get on this bed. It provides excellent pressure relief to minimize aches and pains throughout the night, keeping your body aligned and fully supported.
Another reason you might want to choose this mattress is that Sleep Innovations conducts scientific tests on their mattresses to ensure they'd be able to provide head-to-toe comfort.
Overall, this mattress is great for people who need enhanced pressure relief regardless of their sleeping position. Whether side, front, or back, the Sleep Innovations Shiloh Medium Firm Memory Foam Mattress will keep your spine well-aligned and neutral in all positions.
Pros
Suitable for a combination of sleepers
Great motion isolation
Keeps you afloat on top
Cons
4. Tempur-Pedic TEMPUR Supreme 3-Inch Mattress Topper
Reddit Reviews
Expert Review
Boasting the record of being the first company to use memory foam in its mattresses, Tempur-Pedic is another reputable name. The TEMPUR Topper Supreme is the mattress to buy if you have been looking for an effective way to boost comfort or increase the firmness of your mattress.
Constructed out of the company's proprietary memory foam, the TEMPUR-topper Supreme was designed to respond to your body's shape, weight, and temperature. It has a removable, breathable, and washable cover, which is thin, allowing you to interact with the top layer more. A top reason to invest in this model is that the proprietary memory foam topper is more durable than the conventional memory foam topper.
The firmness of this model is largely dependent on the mattress you want to place it on but most users agree that it is around the medium-soft range as opposed to the medium-firm the manufacturer says it is. It is soft enough to relieve pressure on your back, hips, and shoulders.
Additionally, this topper does well at motion isolation, which means you won't feel or hear your partner changing positions at night. Plus, Tempur-Pedic also adds that it is suitable for different kinds of sleepers but if you run warm, you might want to consider another model as this topper retains heat.
Overall, if you're not ready to replace your firm bed, this topper from Tempur-Pedic is a fantastic option to consider. It is 3-inches thick, which is enough to change the feel of your mattress. Apart from using it to upgrade your bed, you can also use it to provide extra comfort in your guest room, dorm room, etc.
Pros
Machine-washable
Versatile and works with almost any type of mattress
Durable
Cons
5. Leesa Hybrid 11″ Mattress
Reddit Reviews
Expert Review
The Leesa Hybrid Mattress is among the most comfortable mattresses you can find on the market and that's safe for a variety of sleeping positions. Unlike its contenders above, it combines springs and memory foam to deliver a restful night.
With premium foam layers and more than 1,000 active pocket springs, it's no wonder that this model is rated high for pressure relief and support. The mattress consists of 5 layers including a perforated top layer to enhance airflow, contouring memory form, and a 6-inch pocket springs system sandwiched between two layers of core support foam.
With regards to firmness, the Leesa Hybrid is a medium-firm mattress but somehow manages to provide some luxurious cushioning and support. When you lie on the mattress, the first two layers allow for some sinkage but that's about how much you can sink.
Motion handling on this mattress is average. While it does use memory foam, which is the common denominator among motion isolation mattresses, the springs make it possible for movements to be felt. On the positive side, the springs system allows for responsiveness, which means you can move around easily. Couples looking for a mattress for sex will appreciate how bouncy the Leesa Hybrid feels.
Going further, the Leesa Hybrid excels at pressure relief via its conforming capabilities that lightly cradle the body and its heavier impact points. It also scores high in temperature control as it promotes airflow, allowing for natural comfort cooling.
If you're among those that like to sit at the edges, you will be pleased to know that the Leesa Hybrid provides solid edge support as the springs are sturdy and reinforced around the perimeter. Most mattresses have some level of compression around the edges but this model offers plenty of stability to sleep or sit on.
Overall, the Leesa Hybrid is a great option for those hunting for mattresses but it isn't for those that weigh more than 230 pounds due to its all-foam construction.
Pros
Supports different sleeping positions
Great for hot sleepers
Profit supports charitable causes
Cons
6. Casper Sleep Original Hybrid Mattress
Reddit Reviews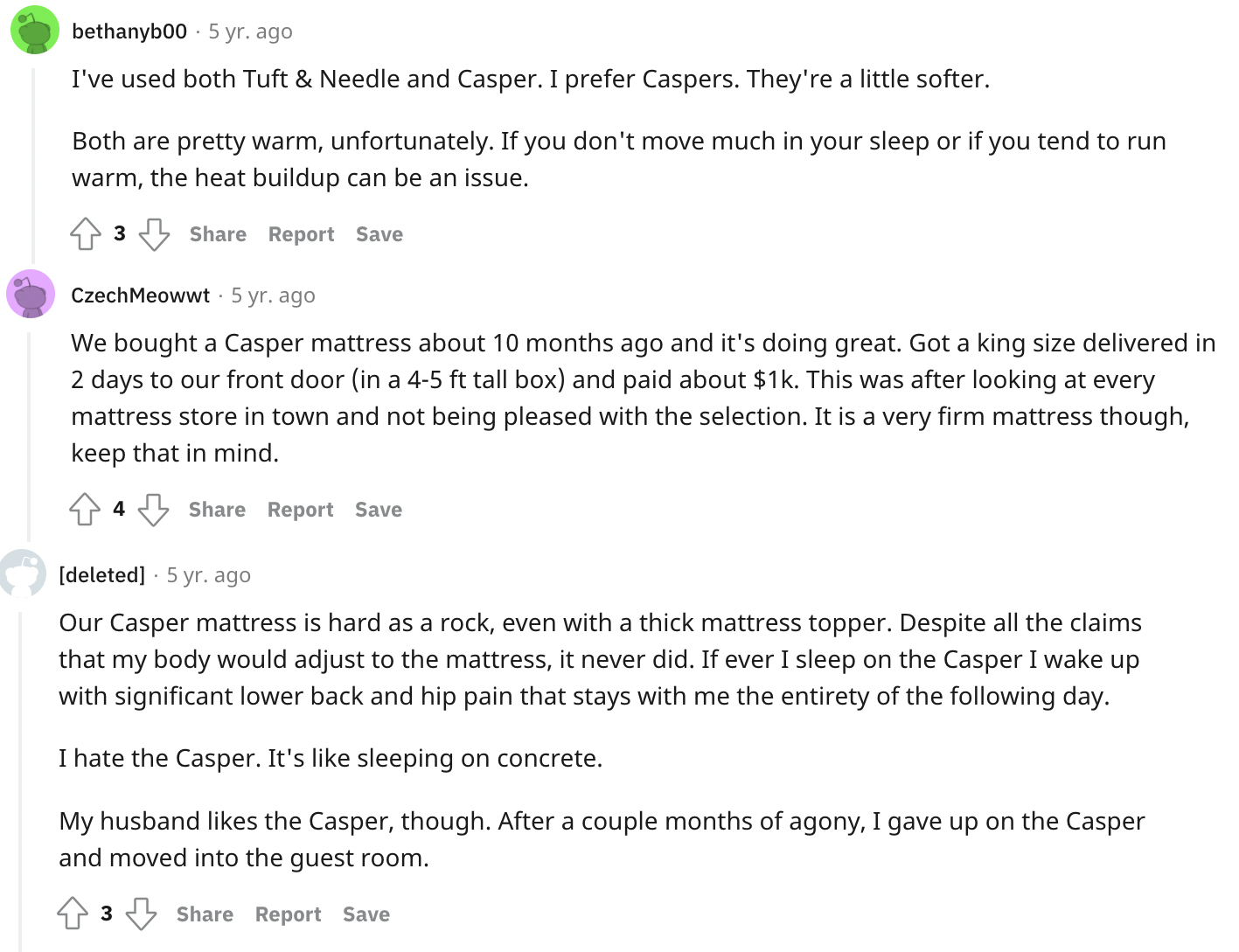 Expert Review
Casper is one of the pioneers of the bed-in-a-box movement, so it's no surprise that they're one of the top sellers of mattresses on Amazon. The Casper Sleep Original Hybrid Mattress is arguably the best mattress on the market at the moment as it provides a balance of support and comfort.
This model features a combination of breathable foams over pocketed coils. On top is Casper's perforated comfort layer while underneath is a zoned layer offering three levels of firmness and the bottom is constructed of durable polyurethane foam.
In a nutshell, the top layer promotes airflow so you don't feel hot while lying on the bed while the tri-zoned layer provides soft firmness for your head and feet and is firmer in the middle to keep your spine properly aligned. The bottom serves as the sturdy base.
The all-foam construction of the Casper Sleep Original Hybrid allows it to absorb motion so you won't be awakened because your partner moved. People suffering from pain and aches will appreciate the combination of pressure relief and support this model prevents the hips from sinking in deeply.
A drawback is that it doesn't have the best edge support, so if this is a major requirement for you, you may want to look elsewhere. But for temperature control, the perforated top layer gives this mattress the edge, allowing heat to dissipate from your body.
Overall, the Casper Sleep Original Hybrid has a bouncy, responsive foam feel. It is also suitable for those looking for a mattress that works for every sleeping position they use.
Pros
Tri-zoned memory foam
Balances pressure relief and responsive support
Promotes airflow to decrease heat
Cons
Not enough support for heavier sleepers