First-time wearable users will find themselves at the crossroads when it comes to choosing between Fitbit and Apple Watch.
Apple's lineup includes several models of high-end smartwatches while Fitbit allows you to make your choice of high-end activity bands as well as smartwatches. Making a decision won't come easy especially if you place quality and durability very high.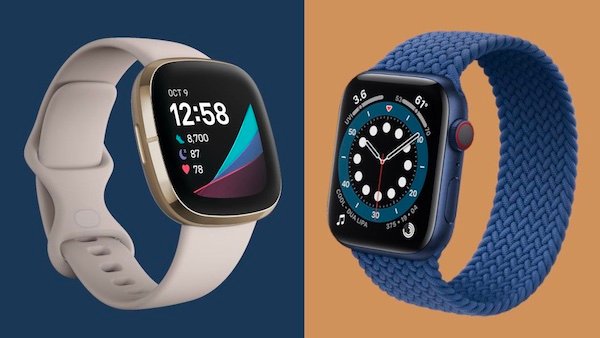 Fitbit vs. Apple Watch – Reddit Users' Opinions
You can easily get all the information on how to choose the best one from Reddit.  Searching through several subreddits, threads, and comments for the right information can be time-consuming, so we dug up the most helpful comments from users and made this review.
Here, you will find detailed information on the best features from both brands as well as helpful comments from Reddit users.
Apple Watch
The Apple Watch Series 6 is the latest model on the market with a starting price of $399. You could configure the size, case material, and opt for cellular support. The smartwatch features the same squircle shape that came with the original model and while it doesn't look very fashionable, it is quite techy.
The Apple Watch is swim-proof allowing you to perform underwater workouts. You will find regular fitness and health features that let your monitor your heart rate, calories, steps, workouts, and sleep. It also comes with a GPS on-board and offers blood-oxygen (Sp02) readings. The Apple Watch allows you to check notifications, set alarms and timers, as well as make NFC payments through Apple Pay. The battery life can be up to 24 hours depending on use.
Fitbit
There are more Fitbit models to choose from and you actually get to choose what you want. There are Fitbit activity bands to track your physical activities and smartwatches that give you the best of both worlds. Prices can go up to $149 for the Fitbit Charge 4 in the activity band lineup while the smartwatches would cost as much as $329 for the Fitbit Sense.
The Fitbit lineup features devices with metallic finishes. Certain brands of the Fitbit models are waterproof but all do offer health and fitness features like monitoring your steps, heart rate, calories burned, sleep, and workouts. Fitbit also provides more in-depth sleep cycle analysis with select models supporting NFC payments through Fitbit Pay.
Fitbit vs. Apple Watch – What Reddit Users Think
Reddit Comment #1
Also, the HR monitor on the Apple Watch is pretty darn accurate. It outperformed many actual HR monitors based on an independent study I saw in a Cardiology journal. – not2sure69
Reddit Comment #2
Which Fitbit?

Fitbit makes better fitness tracker with more metrics and analysis than apple watch does but as a smart watch, apple is better

I prefer Fitbit charge 4 that I wear 24/7 and it has gps so can track my runs and workout without needing my phone and it has more metrics than apple watch

If you want better apps and full smartwatch, apple is better. More serious people wear a tracker like Fitbit in addition to a smartwatch – Gboard2
Reddit Comment #2
I have had both an Apple Watch and a Fitbit. I like my Apple Watch better because it does more, but Fitbit was definitely better for fitness related uses. As someone else said, the calories burned aren't reliable, but things like steps, heart rate, and sleep, seemed more accurate on the Fitbit. At least to me. – attysmom22
Reddit Comment #3
I have a Fitbit, a really basic one and it has that vibration to remind you to move. If that's the only feature the Apple watch has that you were interested in, well it isn't unique to Apple.

I found the exercise calories to be reasonably accurate, though I don't generally eat all of them back because I like some wiggle room. – YFMAS
 Reddit Comment #4
I used Fitbits for 7 years and am now with Apple Watch and would never go back. You can get everything in a Fitbit on an Apple Watch. I use Lose It! (Noom just wasn't doing it for me) and it integrates well, but Noom did too.

The thing is a Fitbit counts steps. So you could walk at a snail's pace and barely get your heart rate over 85 and be like yeah I crushed it today! But the Apple Watch rings system gets you to stand up every hour, count at least 30 exercise minutes per day, and the move ring is based off calories burned. So you get credit for vigorous activities that don't give you a lot of steps – weightlifting, Pilates, cycling, HIIT. I remember doing a boot camp where I worked very hard, but because it was a mix of lifting and HIIT I'd only go home with like 2000 steps max. The Workout app has dozens and dozens of specific activities to track as workouts. As a running watch (I'm more of a runner than anything) it's been great. You just have to charge it more often, but I just put it next to my phone at night. – bltrvns9
Reddit Comment #5
The apple watch as a "fitness tracking device" is not as intuitive as Fitbit – that being fitbit sort of automatically recognizes you're working out and such and the companion app (Health App) is not as easy to work with when tracking workouts or meals/sleep hours; although you can use 3rd party apps for that.

That being said if you look at the Apple Watch as a smartwatch with a few neat fitness features, it's much nicer than the fitbit. Has a HR monitor, you get your phone notification and some control over apps and music from your wrist. I've had my 2nd gen apple watch for roughly 2 years now – at one point I had a weird glitch with the screen staying black and it was still under warranty so it got replaced for free. That's the kind of guarantee/reassurance you might not get with Fitbit. – crisbehr
Image credits: Techradar